MAXIMUM THICKNESS – HIGHEST RESISTANCE
The 20 mm-thick Panariagroup collections combine beauty and high technical performance with a timeless guarantee of the product resistance.
A wide range of sizes, textures and colours, designed to recreate seamless and uniform surfaces between indoor and outdoor areas in residential and commercial settings.
20 mm outdoor porcelain stoneware is ideal for exterior applications using dry installation on gravel, sand or grass, but it can also become a surface for vehicular passage when it is installed using adhesives onto the screed, thanks to its high load bearing resistance. It is resistant to frost, thermal shock and it has excellent non-slip characteristics.
THE ADVANTAGES OF A 20 mm THICKNESS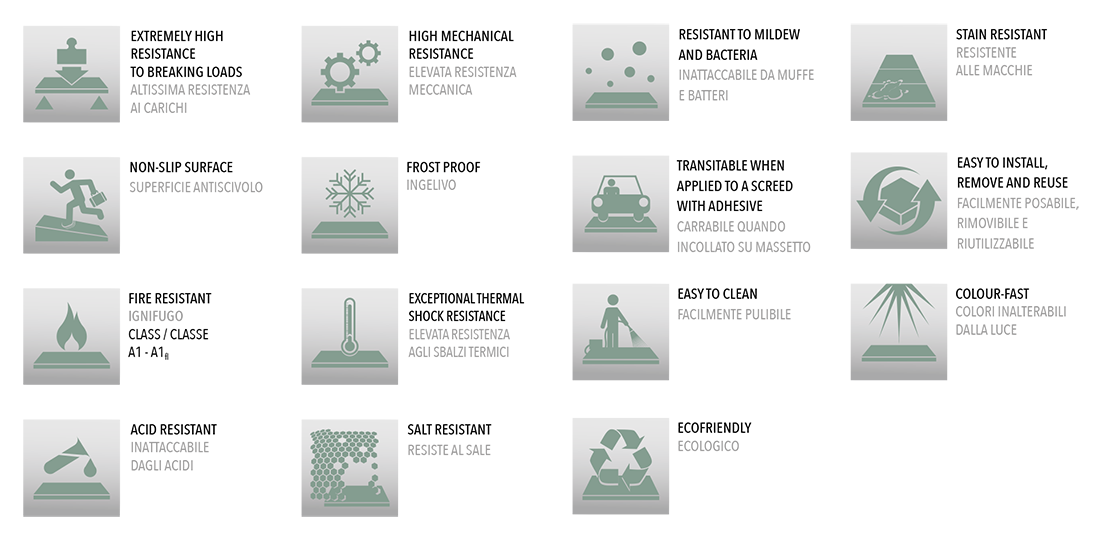 THE IDEAL SOLUTION FOR OUTDOOR SPACES
Thanks to the possibility to install it dry (on grass, sand or gravel and on adjustable or self-levelling supports) the 20 mm Panariagroup outdoor porcelain stoneware is the most versatile solution for exterior floors in residential and public areas.
DRY INSTALLATION ON GRAVEL OR SAND
Dry installation on gravel or grass makes it simple to improve the aesthetics of both public and private outdoor spaces. This solution maintains drainage to the ground via the joint, enabling water to run-off.
INSTALLATION ON SCREED WITH ADHESIVE
Traditional laying on screed with adhesive is mainly used in outdoor paved areas subjected to vehicular passage, such as access areas to garages, parking lots both in residential and industrial/commercial areas.
ELEVATED FLOOR INSTALLATION
Outdoor laying on raised flooring uses the traditional systems for floating flooring. Thanks to the fixed and adjustable supports, this application solves the problem of uneven terrain while ensuring water drainage. It can
be used to conceal cables and pipelines.