ECONOMIC RESPONSIBILITY
Panariagroup's history is rooted in an area that is internationally renowned for porcelain stoneware production. The Modena and Reggio Emilia areas, and specifically the Sassuolo area, are home to numerous companies whose core business is the production of ceramic surfaces. It is the perfect context in which to grow an entrepreneurial project that aspires to the highest quality and manufacturing excellence.
Over the years, parallel to the economic development of the area, the technical ability of ceramic workers, who have begun to settle here, has also increased exponentially.
Panariagroup has always remained firmly rooted in its native land and proudly represents "Made in Italy". Indeed, products developed in Italy are key to its financial success. The Group considers it fundamental also to support the prosperity of the areas in which it operates, maintaining employment levels, promoting relations with local communities and creating shared value.
Even when operating outside Italy, Panariagroup has also maintained, over the years, a strong local identity, supporting the economic and social development of the areas in which it operates (not only in Italy, but also abroad, in the Aveiro area in Portugal and Lawrenceburg in Kentucky).
Connected to the local community but also focused on national and international dynamics, the Group – partly due to its 17-year presence on the Stock Market – is always aware of its responsibility towards its current and potential shareholders and to financial institutions.
The Group is constantly committed to achieving development objectives aimed at guaranteeing an increase in the company's value, through appropriate reinvestment of profits and, depending on its financial results, an equally appropriate dividend policy to directly remunerate shareholders.
In order to maintain a constant exchange of information with the national and international financial community regarding the Group's management, an Investor Relations body has been established to manage the relationship with these important stakeholders.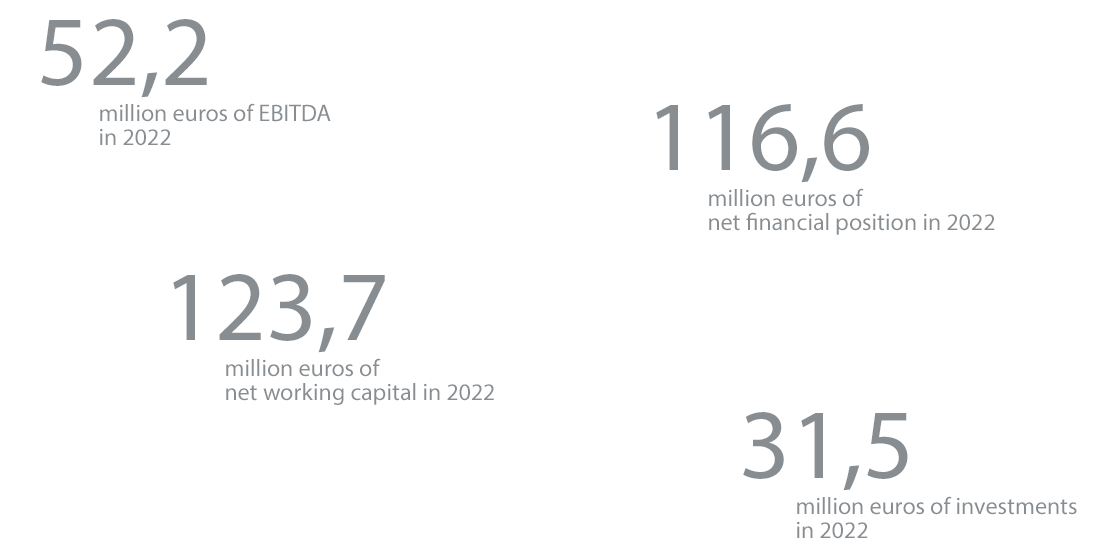 PRODUCT RESPONSIBILITY
Technological innovation is key to Panariagroup for achieving new goals in the production of porcelain stoneware tiles and with regard the environment. The Group's product range combines the ancient art of ceramic with the most advanced standards for floor and wall coverings, offering specific solutions for any kind of application, from large commercial surfaces to residential use.
At its plants, Panariagroup produces ceramic porcelain stoneware or monoporosa (single-fired) tiles. In particular, the porcelain stoneware ("grès porcellanato") denomination refers to an extremely, compact, dry-pressed ceramic product characterised by excellent technical specifications (high mechanical strength and resistance to wear, chemicals and stains) and very low porosity. Due to these characteristics, the product, during the firing stage (at a temperature of over 1,200° C), reaches complete vitrification, acquiring extremely low water absorption properties and consequently frost resistance, making it suitable for outdoor installation.
Panariagroup is also a leading company in the production of laminated porcelain stoneware, a revolutionary product manufactured with an extremely innovative system, the result of very advanced and high-performance technology. Panariagroup's laminated stoneware allows the creation of tiles characterised by reduced thickness (as little as 3mm), produced in whole 100×300 cm and 120×278 cm slabs without the use of moulds. A completely automated cutting line enables the creation of various commercial formats.
Extraordinary attention to quality during every step of the production cycle is another defining characteristic of Panariagroup's products: from the choice of raw materials to the next-generation industrial facilities, certifications and after-sales service. This all goes hand in hand with our sustainability choices, which represent a continuous stimulus for innovation and process improvement.
ENVIRONMENTAL RESPONSIBILITY
Always at the vanguard in skilfully combining beauty, quality and sustainability, Panariagroup works every day to reduce the environmental impact of its plants to a minimum, demonstrating its commitment to ecosystem conservation and to researching the best housing comforts. This is a vital, essential commitment, especially for those who create products that millions of people all around the world encounter in their daily life, at home or in public places. The Group considers the aspects related to environmental impact and to safety and hygiene at the workplace to be of fundamental importance. Consequently, the policy adopted to manage the Group's activities is based on strong and precise principles:
safeguarding the integrity of the environment that surrounds the manufacturing facilities as well as the environment within, thus protecting the environment as a whole;
ensuring constant respect of the existing legal regulations regarding Safety and the Environment through ongoing and rigorous inspections;
managing, preserving and, where possible, reducing the use of natural resources, through research and development activities focused on the use of recycled material and on energy efficiency policies;
constantly improving its environmental approach to keep the production of pollutants and the consumption of resources to a minimum;
providing constant information and maintaining an ongoing collaboration with the population and with public organizations regarding the environmental Policies adopted, including the release of the EMAS Environmental Statement and the 2016 Sustainability Report.
Such principles are of paramount importance because they drive Panariagroup both at a management and strategic level and in terms of operational management of individual plants, with the ultimate aim of constant improvement of environmental performance at all management levels.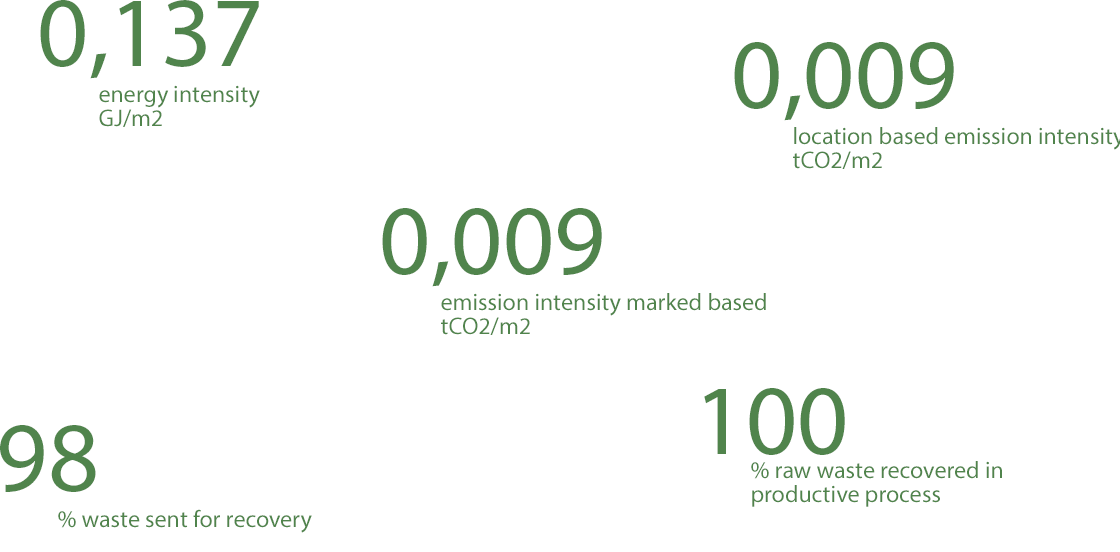 SOCIAL RESPONSIBILITY
One of Panariagroup's core values is to always attach central importance to people and quality of life, operating with the utmost respect for those who work with the Group.
Its staff, their well-being, their growth and their professional development are key to Panariagroup's success.
In managing its employees, Panariagroup endorses a corporate culture that attracts the best talents, improves employees' skills and their ability to work in groups, and recognises and rewards their performance, with the ultimate goal of contributing to their professional and personal satisfaction.
In order to guarantee the application of these principles, the Group almost exclusively employs permanent staff. This type of contract guarantees employees more stability and greater opportunities for professional growth. At the same time, the Group takes into consideration requests from employees for part-time work, where possible offering job opportunities that fit their personal and professional needs.
Operating in a complex economic environment, up to this point Panariagroup has decided to maintain stable employment levels and solid relations with the local communities in which it operates, avoiding outsourcing of production processes. Indeed, stability in relations with employees is a fundamental element in responsibly maintaining the Group's economic growth.
As of 31 December 2022, the Group employed 1,720 employees, with 30 more new hires compared to the previous year.