Panariagroup chooses System Ceramics for the renovation of the Fiorano Modenese plant
Panariagroup chooses System Ceramics for the renovation of the Fiorano Modenese plant
The over ten-year partnership between the two Modena-based giants has been renewed, with a focus on technological innovation and sustainable development
Fiorano Modenese, 20 January 2022
Two leading companies in the ceramics sector are renewing their collaboration with a focus on technological innovation and sustainable development: System Ceramics, a Coesia group company, and Panariagroup Industrie Ceramiche, two companies whose industrial trajectories have fruitfully intersected during an over ten-year partnership, which are now reconfirming their synergy through a strategic new supply.
A leading company in the high-end ceramic market, Panariagroup boasts a prestigious production and a wide range of porcelain stoneware and ultra-thin stoneware solutions, created with the nine commercial brands distributed in Italy and worldwide. This allows it to respond to and anticipate industry trends for residential, commercial and public architecture with cutting-edge solutions from both an aesthetic and a technological standpoint.
The corporate goals and the pioneering nature of Panariagroup have led the company to recognize System Ceramics as a key technological partner for an extensive renovation project of the plants of the Fiorano Modenese plant. This project was carried out during 2021 and required innovative solutions that could guarantee the best performance in terms of production and business management. This is the target and the goal that System Ceramics sets itself daily in its constant pursuit of solutions tailored to customer needs.
The first operation involved the installation of a SUPERFAST 21000 with attached cutting system and a feeding tower for the production of ultra-thin porcelain stoneware slabs.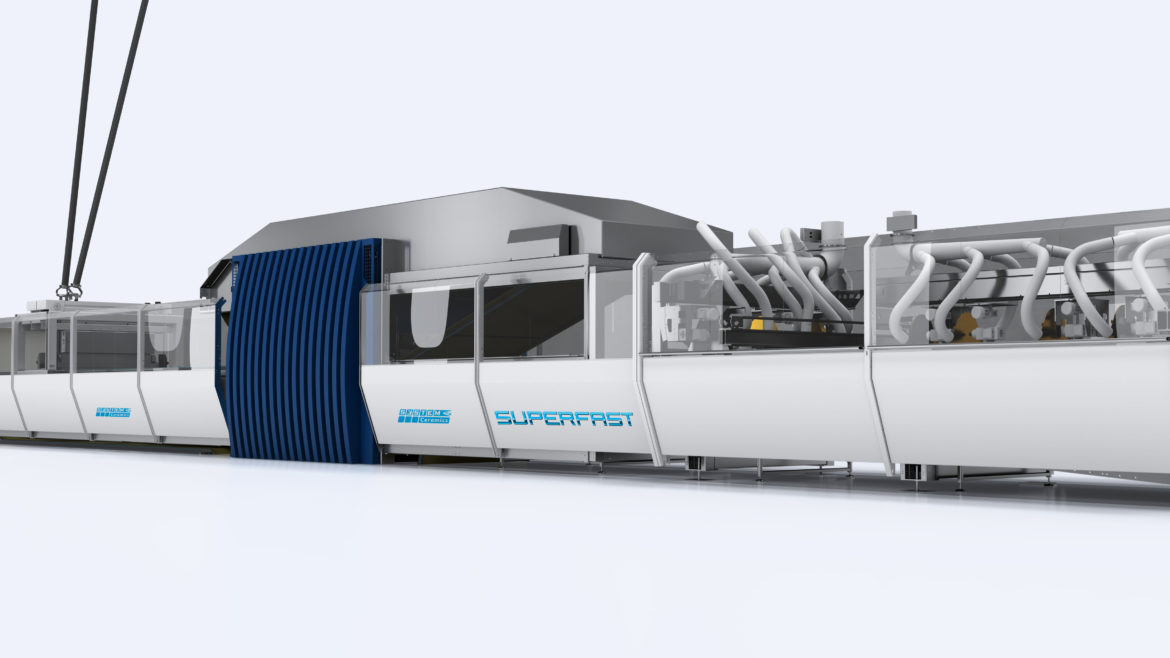 Kerlite di Cotto d'Este, Slimtech di Lea Ceramiche e Zero.3 di Panaria Ceramica are superior-quality solutions that combine record dimensions with extremely slim thicknesses (3.5 – 5.5 – 6 and 6.5 mm), guaranteeing very high levels of resistance, flexibility and versatility. These results could be obtained thanks to technologies that revolutionize the traditional production process and further raise the level of ceramic excellence.
The heart of the supply is one of System Ceramics' flagship technologies: Superfast, the mouldless ceramic press which, thanks to the system equipped with a single belt, makes it possible to manufacture with an unprecedented level of flexibility. Advantages in terms of time, space and consequently costs make the Superfast technology an effective support for ceramic production aimed at sustainable development; it is in fact possible to change production in zero time and to completely recover the raw materials that are surplus to requirements during the cutting stage.
New logistics solutions have also been implemented at the Fiorano Modenese plant, including new LGVs and a new slab sorting line from Studio 1, a company that is part of System Ceramics. Moreover, the layouts for the slab processing stage have been completely rearranged.
With regard to this collaboration, Giuliano Pini, CEO of Panariagroup, comments:
"The Emilia-Romagna Ceramic District is one of the industrial sectors that drives Made in Italy production. In spite of the economic crisis, companies have continued to pursue technological and process innovation while improving environmental performance, conscious that sustainability has become a key factor in remaining globally competitive. Today, we are facing the challenges of converting and redeveloping production sites with a renewed industrial culture. The collaboration with System Ceramics is the result of a team effort that prioritizes quality and innovation, building on a relentless search for improved solutions that are compatible with the new market needs, in order to provide our customers with an innovative, sustainable and high-quality product."